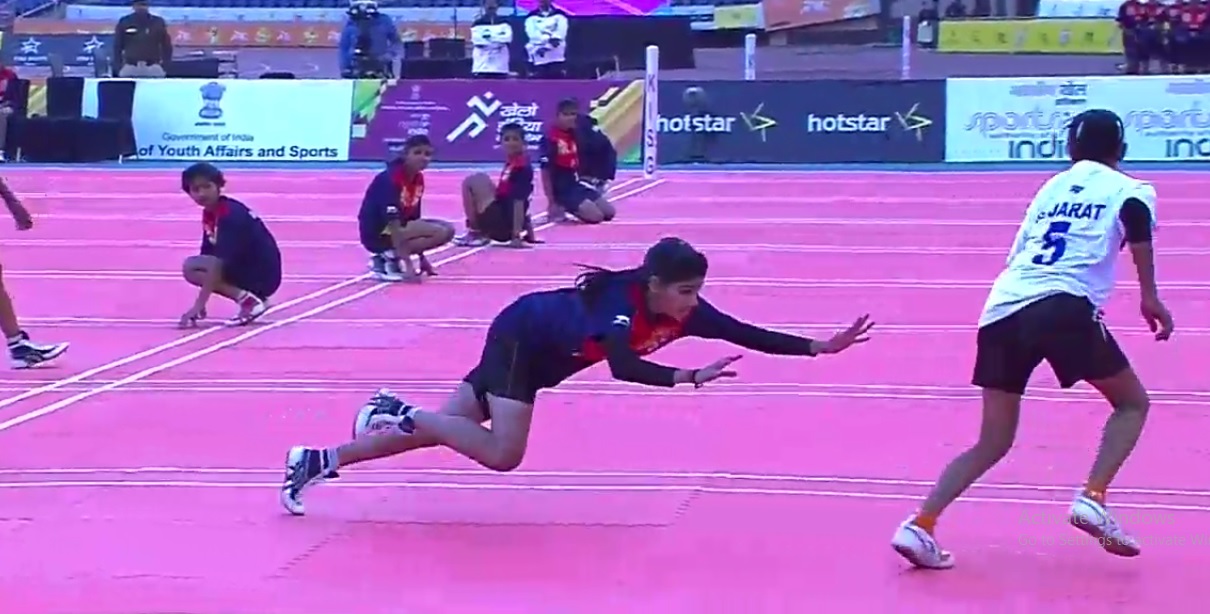 Maharashtra KHO KHO GIRL player in action at khelo India school game 2018[/caption]
Double Gold Medals for Maharashtra Kho Kho Teams. Maharashtra Boys team and Girls team reached in final with Kerala boys kho kho team and Gujrat Girls Kho Kho team.
The game organized by Khelo India witnessed the same state winning two GOLD medals in Kho Kho.
It was Maharashtra Girls who defeated Gujrat team by a narrow margin of just one point. Maharashtra girls Kho Kho team scored 7 points while stopping Gujrat Girls Kho Kho team at 6 Points. While just after the Girls Indian school kho kho match, Maharashtra boys kho kho team to show the skills. The Maharashtra boys won the match by one point scoring 11 and stopping Kerla kho kho team score at 10.
Double Gold Medals for Maharashtra Kho Kho Teams :
After winning the toss Maharastra Girls Kho Kho team chose to defend. Their decision was right and they defended very well at the ground. And they left a little option open for Gujrat to score. After scoring winning point in last five minute Maharashtra bagged the gold.
In similar fashion, the Maharashtra Boys Kho Kho team won the toss and chose to defend first and the result was the same. It appears throughout the tournament that Maharashtra is well prepared for all the match and had a great kho kho training.