About Kho Kho
Kho Kho is a tag game of India. Its origins are as old as Mahabharata, with strategies and tactics likely derived from Mahabharata itself. On the 13th day of the war, the Kaurava Guru Dronacharya planned the unique tactics Chakraviyu a special military defensive strategy breached by the expert warrior Abhimanyu. He died as he had to fight alone against 7 other warriors and he received heavy casualties. His style of fighting reflects the concept of ring play – a defensive tactic in Kho Kho.
Kho Kho fosters many desirable traits such as sportsmanship, teamwork, loyalty, competitiveness, and self-esteem as well as speed, agility, strategy and quick thinking. This game in itself is a personal development tool for the athlete that takes up the challenge.
First ever Kho Kho competition was held in the year 1914.  In 1959 first National Kho Kho Championship was held under Kho Kho Federation of India was set up in the year 1955.

The Asian Kho Kho Federation was set up in the year  1987 where 3rd SAF Game was held in Calcutta, India. Countries which joined Asian Kho Kho Federation was India, Bangladesh, Maldives, Sri Lanka and Pakistan. In 1996 first AKKF championship happened in Kolkata, India. Second Asian  Championship was held in Dhaka, Bangladesh.  Countries which participated this championship were India, Pakistan, Srilanka, Japan, Nepal, and Thailand.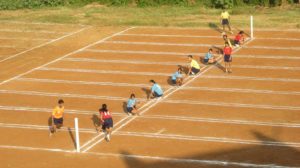 Rules of Game
Two teams face each other in this game (Team A and Team B)
The game starts with toss between two team captain. The winning captain decides who will chase Team A or Team B. Both the team consists of 12 players. If Team A won the toss and decides to chase. 9 players from team A enters the playground. All 9 players sit/kneel in the middle of the court facing opposite direction in a straight row. A match consists of two innings of running and chasing turns of 9 minutes.
From Team B, three players can enter the kho kho ground as the runner. All 9 players of the team sit in a row with both the end having a pole. The 3 runners can go between two players of Team A who are sitting in a zigzag alignment. The chaser team member is not to go through their sitting team members failing to it is a penalty. He can only turn back and chase after he touches the pole at either end of the line. These are basic kho kho rules to follow on the ground.

 Playground Dimensions and Equipment
The required equipment in kho kho game is two watches, whistle (every time a team scores), measuring tape, lime powder and stationary to write results.
Kho Kho playground is 29 meters long and 16 meters wide in dimension. At each end of the longer side of the rectangle is two rectangles measuring 16 meters in length and 2.75 meters wide.  Wooden pillar of 120 cm high at the inner center of the line of this rectangle as shown in the figure below. The circumference of the wooden pillar is between 30 to 40 cm. There is one straight line on either side of the pillar. There are 8 pairs of parallel lines between these two wooden pillar posts. Each pair of the line is 30 cm away from each other and 2.30 meters away from next pair of line. This creates 8 boxes of 30 cm in length and 30 cm width.

Kho Kho Skills
Basic Skills required is running and chasing. Some of the basic kho kho skills are  :
The judgment of direction: How fast and attentive you are to know which direction you have to run. Next is
Getting up from Square: Should be very responsive to your teammates.
Running Skills: You should be fast ring play, a single chain running, zig-zag running, straight running.
Team coordination: very fast grasper of Kho given by team members and realizing if the signal was early Kho, late Kho, fake Kho, hurry Kho or it's a simple Kho.